Sea Kayaking Tour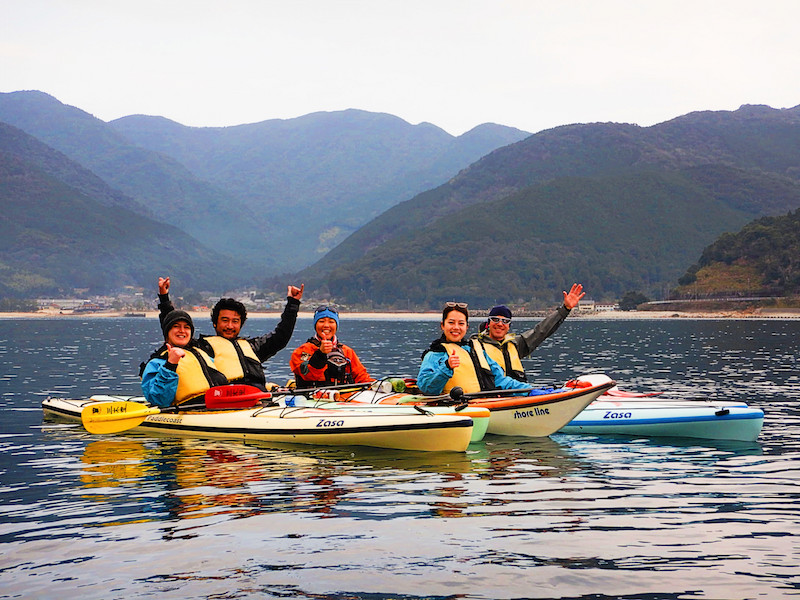 Kumano Kodo Ocean Trail Pilgrimage Sea Kayaking Tour
(for Experienced Kayakers)
About the Tour
The "Kumano Kodo Ocean Trail Pilgrimage Sea Kayaking Experience" is a unique adventure which retraces the waterway route that pilgrims took through this bay when walking the Kumano Kodo Iseji route from Ise Jingu to the Kumano Sanzan shrines during medieval times.
On arrival in the village of Sone, a private BBQ lunch of fresh seafood and other local produce takes place on a floating clubhouse where local people often meet to socialize and enjoy good food and drinks together.
After the BBQ lunch there is a short walking tour of a historic shrine with massive old-growth trees.
This is a fun way to incorporate some modern sea kayaking with the history and atmosphere of the Kumano Kodo Iseji route in a dramatic natural setting.
Dates for 2022
We hold the tour if we get the request. Please contact us here. The minimum number of participants is three.
Itinerary
08:30 Meet at a parking lot of a public restroom in Kata
(Please see the map.)
08:40 Driving to the destination and park the cars then go to the Mikisato Beach where we set the boats
*We will try to arrange the cars of guests would be at the destination and go to the beach by our car.
09:30 Launching from Miksiato Beach and enjoy the ocean Kumano Kodo
11:30 Landing on the floating clubhouse and take shower & changing cloths
12:00 Lunch (Seafood BBQ!) and take a break
14:00 Visiting Asuka Shrine (on foot)
15:00  Finishing the tour

Who can Join
●For experienced paddlers only. Must be able to steer kayak and paddle ~6 km.
●10 and over are OK to join experience. But must be accompanied by an adult or parent.
● Weight limit : within 100 kg.
Number of guests
3 to 8 people
(Please let us know if you have other numbers of people.)
What to Bring
Please see What to Wear & Bring.

Fee
JPY 15,000
*These are included; Guide fee, Sea Kayak set rental (including lifejacket and small waterproof bag), Insurance, Lunch, and Facility fee.
How to Book and Pay
Please book here.
When we get your reservation, we will tell you how to pay by e-mail.
Your reservation is confirmed after your pay is completed.
Cancellation Policy
・Cancellations made 7 days or more in advance of the activity date will receive a 100% refund.
・Cancellations made within 4 days will receive a 80% refund.
・Cancellations made within 2 days will receive a 70% refund.
・Cancellations made within 1 day will receive a 50% refund.
・Cancellations made on the day will NOT receive a refund.
Notes
・Meeting place (in Kata), Launching place (in Mikisato) and the place of finishing the tour (in Sone)
・We use single boats "Zasa" produced by Paddlecoast.
・We recommend having our lessons beforehand to people who are worried about your paddling.
・We may change some parts of the journey depending on the weather or sea condition.
・If the tour is cancelled because of the bad weather or host's circumstances, we pay back all the fee.
(If you cancel because of your own circumstances, there will be a cancellation fee involved.)
・If the tour will be cancelled, we will call you by 5:00 PM the day before.
■「Ocean Kumano Kodo in Mikisato to Sone」video from youtube (taken by Mr. Akihisa Fukuda)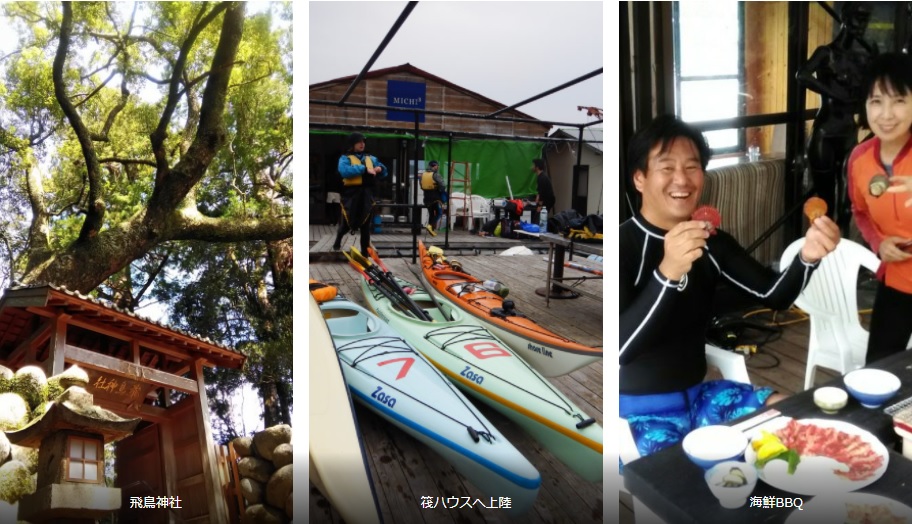 Meeting Place(Google Map)
Reservation Form